Yoga Teacher Training Spain
Become A Certified Yoga Teacher, Yoga Alliance® Accredited
★★★★★
Exceptional Yoga Alliance School Rating 4.7 of 5
BEST YOGA TEACHER TRAINING SPAIN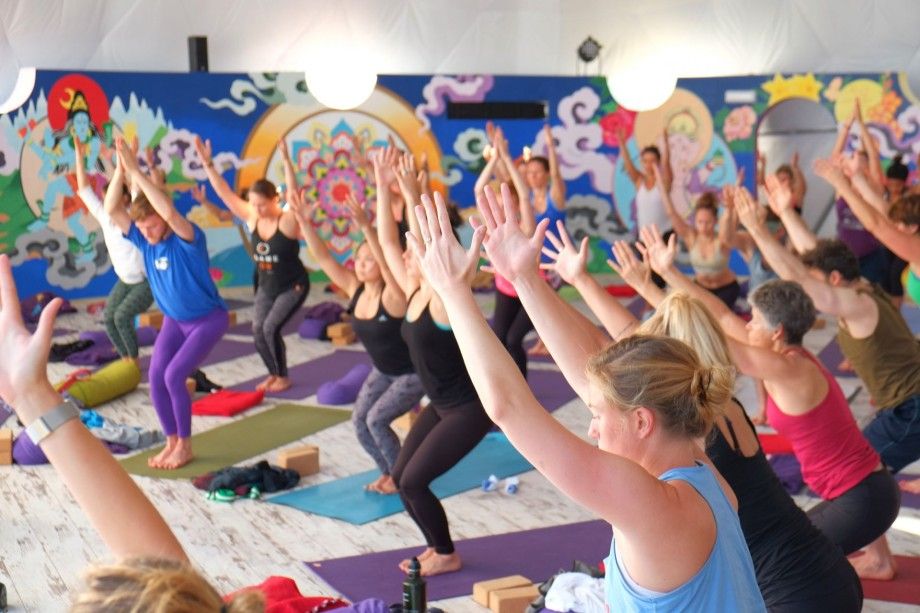 Frog Lotus Yoga (FLY) has been training teachers for over 20 years, resulting in skillfully refined, polished and comprehensive yoga teacher training in Spain. We focus on teaching a safe and inclusive vinyasa yoga for everyone. We are committed to turning you into a qualified yoga teacher and support your growth throughout the years.
Learn from highly experienced teachers

Gain in-depth knowledge on alignment and safety

Get a strong grounding in Eastern Philosophy

Receive support before and after the training

Immerse yourself in a stunning location

Eat organic vegetarian home cooked meals
UPCOMING YOGA TEACHER TRAINING IN SPAIN
\Learnworlds\Codeneurons\Pages\ZoneRenderers\CourseCards
MEET YOUR TEACHER
Vidya is an internationally-renowned master yoga teacher with over 45 years of teaching experience as well as a deep and experienced knowledge of yogic philosophy and meditation. She studied and taught 6 years in India. Her early yoga teachers include Patricia Walden, Rodney Yee, Ana Forrest, Larry Schultz and Leslie Kaminoff.

She founded Frog Lotus Yoga International in 2000. Since, she has trained thousands of yoga teachers and led over a hundred 200 hour Yoga Teacher Training, resulting in a skillfully refined, polished and comprehensive course. After teaching around the world, she created her own yoga retreat centre: Suryalila, in Andalusia southern Spain.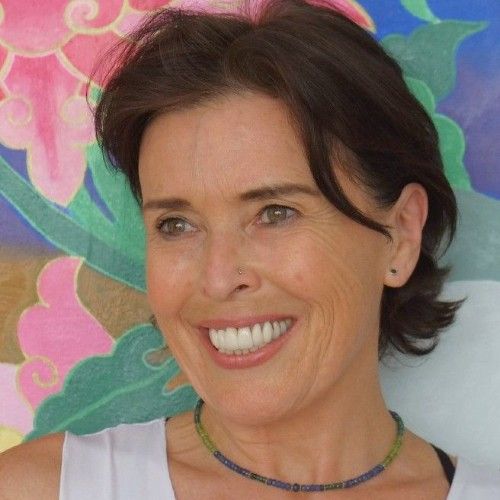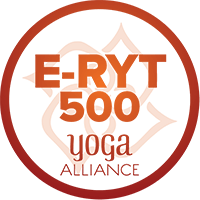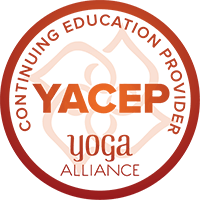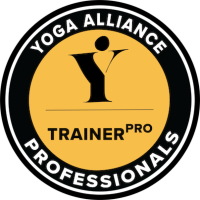 Certification
Graduates can work and get insurance worldwide
LIVE THE SURYALILA EXPERIENCE
YOGA TEACHER TRAINING SPAIN
Yoga Halls
MAGNIFICENT YOGA HALL
THE OM DOME
A state of the art yoga hall inside a beautiful geodesic dome that resemble a Nepalese temple. You will practice everyday during your yoga teacher training overlooking through a massive bay window one of our best views of beautiful rolling hills and a ruined monastery.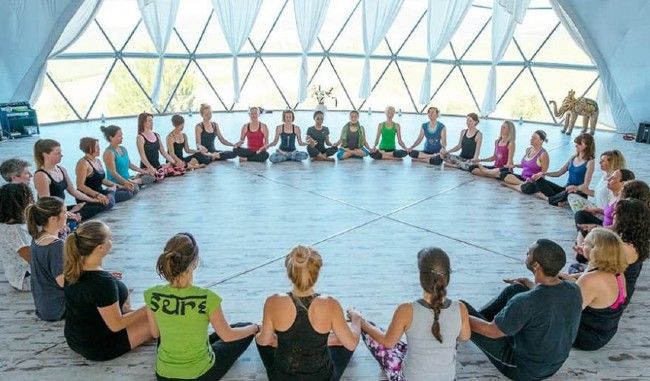 GANESHA YOGA SHALA
Ganesha is a beautiful yoga hall with a wood and beam ceiling and wood floors. It has windows on both sides which allow for plenty of light and air flow. There is also an attached balcony with beautiful views of the hills of Andalucia.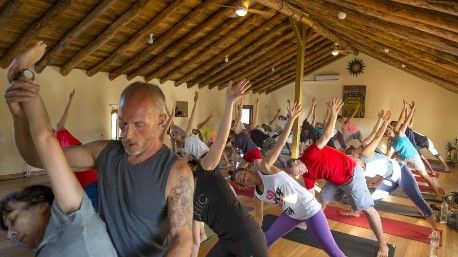 THE MOON SHALA

The Moon Shala is a wonderful organic structure located in our olive grove. The floor is made from local pine, the wooden high ceiling resembles the inner structure of an umbrella and b
eautiful murals grace the walls.
The atmosphere inside feels like the building itself is a breathing, living organism.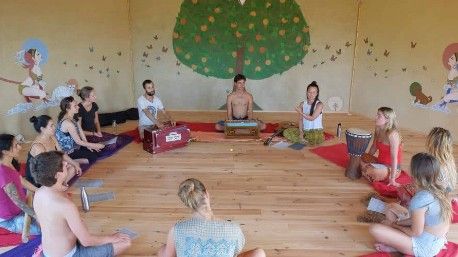 Massage Therapy
At Suryalila Yoga Retreat Centre, we always have highly trained and insured massage therapists in residence for both warm and caring massages. Treat yourself and recover from the yoga teacher training with Thai Yoga, Deep Tissue or Ayurvedic massages.
THAI YOGA MASSAGE
Thai Yoga Massage is an ancient healing art with origins in Ayurvedic medicine, Yoga and Buddhism. It has evolved into a unique and magical combination of deep stretching, rhythmic compression, soft tissue manipulation, gentle rocking, energy balancing and acupressure.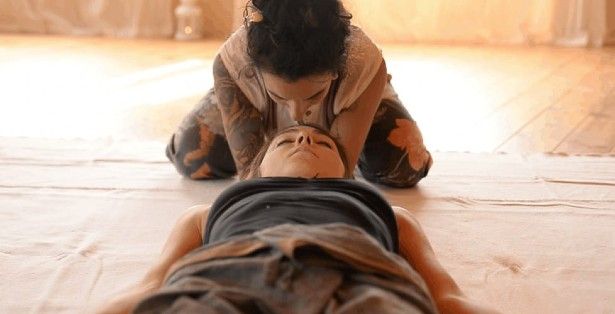 DEEP TISSUE & AYURVEDA MASSAGE
The Ayurvedic massage is considered an integral part of traditional Indian medicine. Ayurveda means knowledge of life. It improves blood circulation eliminating toxins and re-establish the balance of body, mind, vitality and emotions allowing the patient to release tension and relax, leading to their physical well-being, serenity of mind and harmony.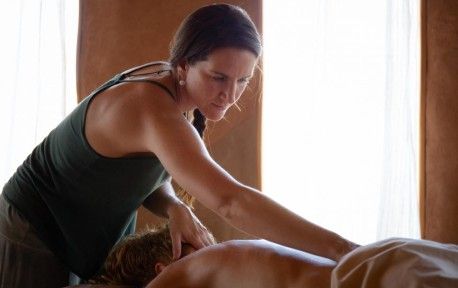 Eco Pool, Sauna & Pagodas
SALT WATER SWIMMING POOL
Relax and rejuvenate in the natural salt water pool.
The pool is set amidst stunning and vast vistas of the beautiful Spanish countryside. Summer months in Andalucia average around 30º Celsius, so taking a dip in the pool can be a very regular event!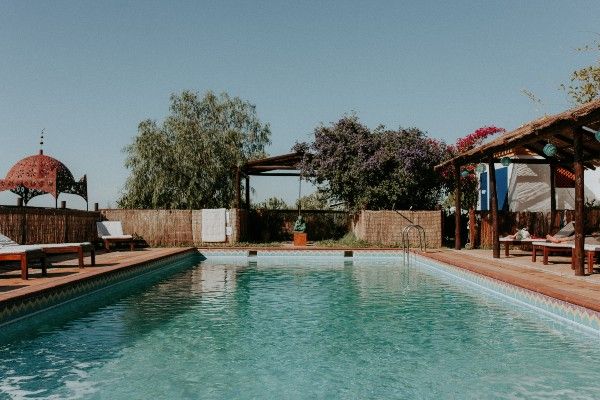 ECO SAUNA
Enjoy the rejuvenating and detoxifying effect of our cosy sauna built out of completely natural materials.
The salt water swimming pool is right next to it, so you can take advantage and refresh yourself in the pool even during the winter months.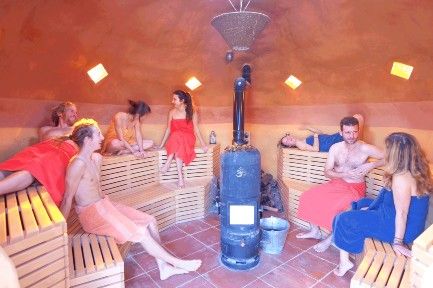 PAGODAS & HANG OUT AREAS
Relax, contemplate the expansive views or glorious sunsets and hang out during your yoga teacher training in one of our several lovely pagodas and hammocks under the olive trees and numerous artfully placed benches.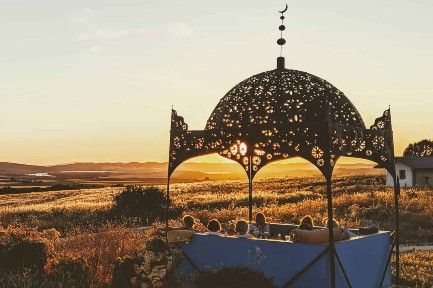 Day Trips in Andalusia
Every Tuesdays and Fridays of your yoga teacher training in Andalusia, Spain, you'll have the opportunity to go on a day trip. Located in the heart of Andalusia, in southern Spain, Suryalila offers you to explore the historic and fascinating culture of the area.
Gourmet Vegetarian Cuisine
We pride ourselves on our outstanding vegetarian food. Meals are delicious, diverse, and beautifully presented, using all organic and mostly locally sourced ingredients. We are working towards supplying more and more of our produce needs from our own organic garden!
I loved having my window prized open to the world of eating food which is alive, healthy, enriching, invigorating and totally delicious!
— Yvonne Siegal, Bristol, UK
VEGETARIAN KITCHEN
The Suryalila Kitchen specialises in gourmet international vegetarian cuisine, using the freshest seasonal, locally-sourced organic fruits and vegetables available. Eggs are gathered daily from our own happy chickens.
We regularly accommodate vegan, gluten-free, and non-dairy diets, so if you have any special dietary restrictions, just let us know.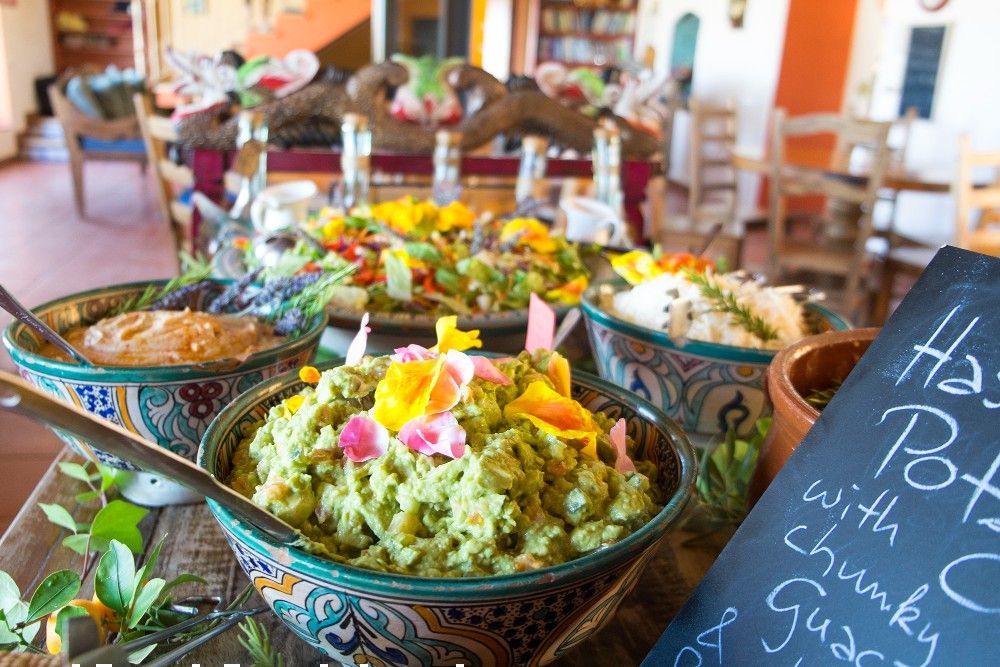 AMRITA CAFE
Amrita bar is a vibrant addition to the Retreat Centre. We offer a menu of cold pressed organic juices, scrumptious smoothies, delicious snacks, Kombucha and health-conscious hot drinks such as spicy Indian Chai, Vegan Bullet proof coffee, Ceremonial cacao, Mocacao and Golden Milk, which contains a super-healthy blend of spices.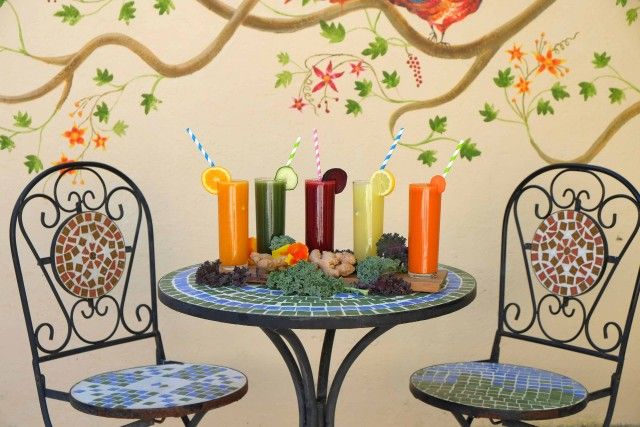 INDOOR & OUTDOOR DINING
We also believe that where you eat is almost as important as what you eat! We provide dining tables both indoors and outdoors so that you can eat in our large beautiful dining room, or enjoy your meal al fresco, watching the stunning sunsets over the Andalucian hill-towns.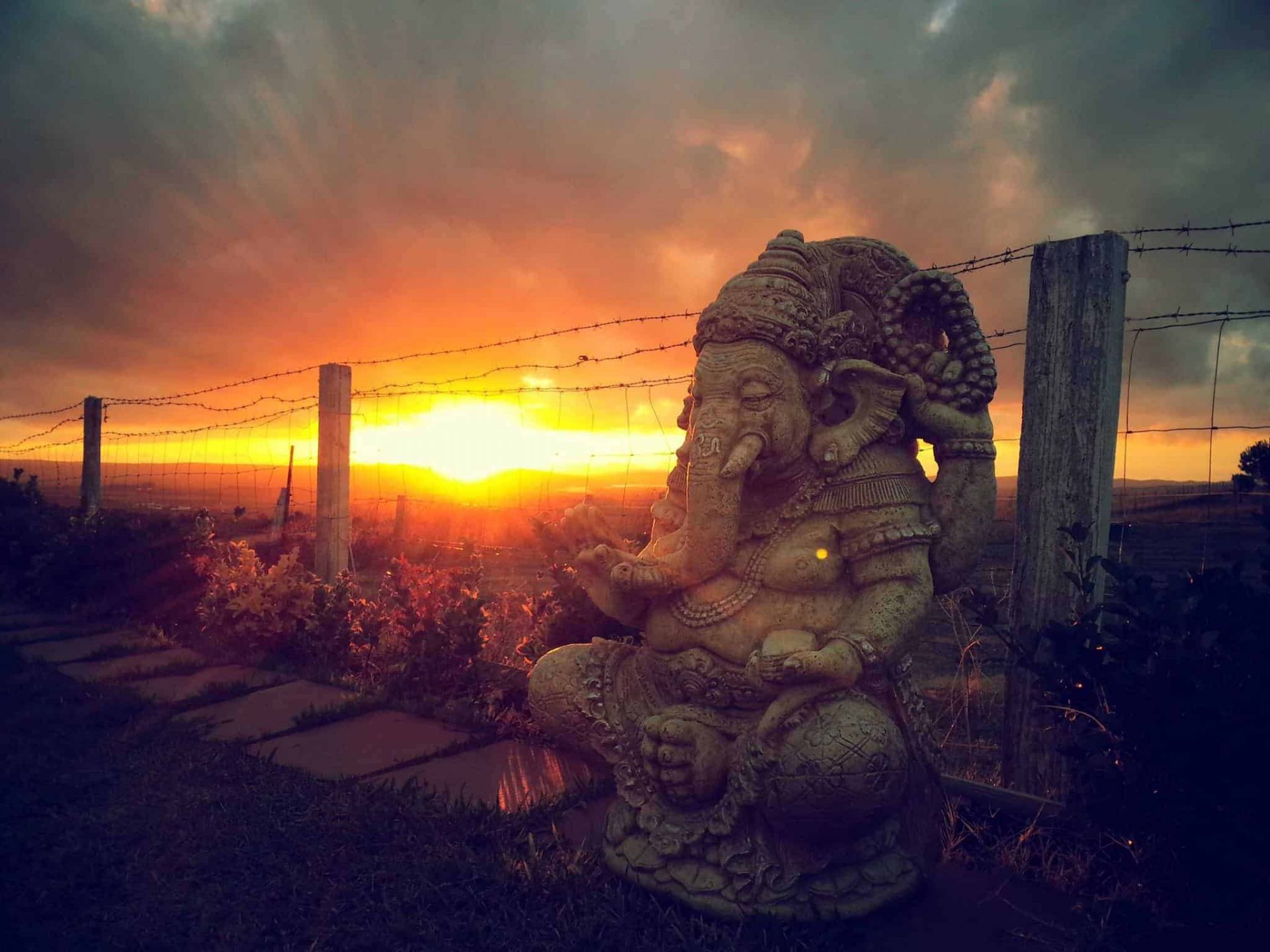 Shakti Boutique — Fabulous Yoga Shop
Find everything you need to enhance your yoga lifestyle in the beautiful Shakti Boutique. Our yoga props, clothing, jewellery, cosmetics and gifts give you the opportunity to take a little bit of Suryalila paradise back home with you.
WHAT YOU WILL FIND
Yoga Clothes and Gear
To find beautiful and unique yoga clothes, look no further.

Gifts and Jewellery
Whether you're looking to treat yourself or your loved ones, you'll find something special in our beautiful collections of jewellery and gifts.

Luxury Snacks and Wine
While enjoying your yoga teacher training, you can treat yourself to delicious organic snacks.

Suryalila CookBook
Full of Vegetarian and Vegan dishes to delight your taste buds.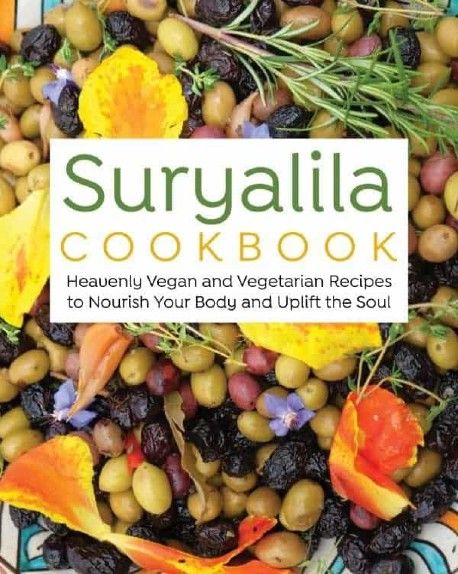 Welcome to Suryalila Yoga Retreat Centre
Nominated as one of the Best Yoga Retreats by Yoga Journal 2019, Suryalila is a stunningly beautiful all-inclusive facilities Yoga Retreat Centre in the heart of Andalusia, Southern Spain. Located in an old renovated olive farm, Suryalila is Sanskrit for "Cosmic Play of the Sun" and host the Frog Lotus Yoga Teacher Training in Andalusia, Spain.
Suryalila is a spectacular retreat centre! Having visited many retreat centres it's rare to find one that has so many outstanding qualities – the location, facilities, yoga centre are all incredible. Their staff are incredibly helpful and accommodating and the food was phenomenal! We had rave reviews from our students, I highly recommend it.
— Tiffany Cruickshank, USA
Get in touch with us
Address
Frog Lotus Yoga International
at Suryalila Retreat Centre
Pago del Pagarete
Cortijo La Fabrica
11650 Villamartín, Cádiz, Spain
Hours of operation
Monday - Friday 9.00 - 16.00
Doing my YTT with FLY was the most inspiring choice I have ever made in regards to my professional development with yoga. I felt loved, supported and encouraged throughout the entire course. I appreciated the excellence in teaching and the comprehensive lesson delivery system. I found the quality of teaching to be absolutely outstanding in every sense, from course materials to additional reading materials. THANK YOU!
Mirela Giles, UK
Training with Frog Lotus Yoga to become a Yoga Teacher was one of the best
decisions that I have ever made in my life. The teachers and the training itself
were outstanding, comprehensive, inspirational and empowering, giving me the
immense knowledge and necessary attitude and skills to go out in the world and
guide people in yoga practice.
Cherie De Asis, USA
I am incredibly grateful for this training. I felt ready to teach immediately and have consistently supported myself as a yoga instructor almost. 100% of the time since my graduation.
Lotsie Cash, USA
JOIN OUR NEWSLETTER
Sign Up Now!
The FLY newsletter is your monthly dose of mindful yoga news, tips and inspiration
Created with